Rising 'One Chance' Robberies Cast Shadow Over Safety in Nigeria's FCT and environs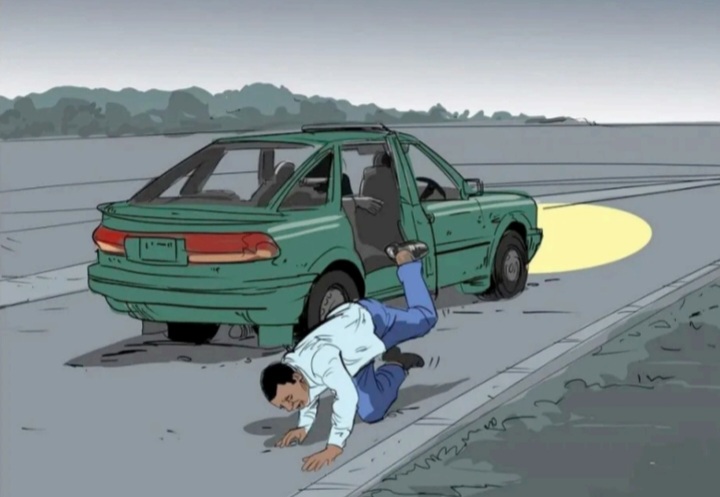 By Daniel Adaji
Insecurity has taken a troubling turn within Nigeria's Federal Capital Territory (FCT)Nigeria's Federal Capital Territory (FCT), where the "one chance" robbery, as it is commonly referred to, has become an unsettling daily occurrence.
The modus operandi of this criminal syndicate involves the use of commercial taxis or unmarked vehicles, some lacking license plates altogether.
Tragically, Olorunfemi Greatness fell victim to this dreaded 'one chance' syndicate.
She met her gruesome end when she was forcibly pushed out of a moving vehicle along the Maitama-Kubwa arterial highway on Tuesday, September 26, 2023.
Until her death, Greatness was the Corporate Social Responsibility/Country Rural Development Manager with Inuire Consulting according to information found on her LinkedIn page.
She was also an active member of the Young Africa Leaders Initiative (YALI)Young Africa Leaders Initiative (YALI) Abuja chapter.
Her death was described by members of YALI Abuja Network as a big blow to national development and a sudden termination of a promising destiny.
The coordinator, YALI Network Abuja, Ms. Moyosoluwa Oladayo, in a phone conversation with NatureNews, lamented the demise of Greatness and warned that if nothing is done to arrest the situation immediately, more residents might fall victims to the activities of these 'killer squads'.
"Greatness, until her death, was an active member of the YALI Abuja Network. She just moved into Abuja a few months ago and had since joined us in the Network. She did not even have a family here, so when the incidence happened, the family was not immediately aware. YALI took up the issue because this is what we fight for in defense of others, and now it has affected one of our members," she said.
Moyo lamented the negligence demonstrated by the staff of the Maitama General Hospital, where she was rushed to, and the entire system that should have worked to save her life.
According to reports, the hospital refused to attend to her without a police report, which is contrary to Part III (Rights and Obligations of Users and Health Care Personnel), article 20, subsections (1) of the National Health Act 2014.
The Act states that "A health care provider, health worker, or health establishment shall not refuse a person emergency medical treatment for any reason."
Contravening this section of the Act is punishable under subsection (2) of the same article. "A person who contravenes this section commits an offense and is liable on conviction to a fine of N100,000 or to imprisonment for a period not exceeding six months or both," the Act states.
"But for the video and audio in circulation, the case would have died down as it was concluded that her death was just like one of the other victims of the deadly syndicates. However, when we saw the video, we felt pained that she had an opportunity to live but was deprived of it by the uncaring staff on duty," she lamented.
The Abuja YALI coordinator also noted that while the Network had started an online campaign and also engaged civil society organizations and government at all levels, the Medical Director of the Maitama general hospital had sought and received the consent of the deceased father to carry out an autopsy on her.
Olorunfemi's death is not in isolation as the FCT had recently become the beehive of the merciless 'one chance' syndicate. Several residents have fallen victim, with a few surviving by chance.
A few weeks ago, an unknown lady's body was dumped at the Gwarimapa axis of the FCT. The lady, whose body was found in the early hours of the day, was suspected to have been robbed and thrown out of the vehicle and left to fate. He was probably far away, and she died.
'One chance' robbery, which first reared its head in Lagos, Nigeria's former capital city, has continued to thrive since it started in Abuja.
In some instances, the plate numbers are misplaced; the front plate number differs from the rear. They use these vehicles to pick unsuspecting victims, convey them to isolated places, ransack, and rob them of valuables.
They usually carry out these operations at gunpoint or brandish other dangerous weapons to threaten their victims to surrender.
Merciless, these robbers do not care whether they hurt their victims or not as their goal is to cart away with valuables unstopped, which has led to heightened fears and anxiety among residents who mostly patronize commercial vehicles.
Greatness' death is coming at a time when most residents now patronize commercial vehicles due to the hike in fuel pump price, hence, the need to take more caution in patronizing public vehicles.
According to a resident, UBER, Bolt, and others of their likes are even becoming less safe now because they are also being reportedly used by the syndicates.
In a video report, the FCT Commissioner of Police, CP Haruna Garba, warned the residents to beware of taxi robbers and manhole thieves.
"I want to use this opportunity to advise the members of the public, especially the residents of the FCT, to be wary of the type of vehicles they board these days. Some of these vehicles are unpainted. When I got information on the mode of operations of these robbers, I instructed all my Divisional Police Officers, DPOs, to go out to the town and impound any of the vehicles suspected to be used by the criminals," he said.
In light of these alarming developments, residents are encouraged to remain vigilant and promptly report any suspicious vehicles to the relevant authorities whenever and wherever possible.
It is essential for the community to come together to combat this growing threat and ensure the safety of all residents in the Federal Capital Territory.