Real reasons IOCs are divesting in Niger Delta – Environmental Activists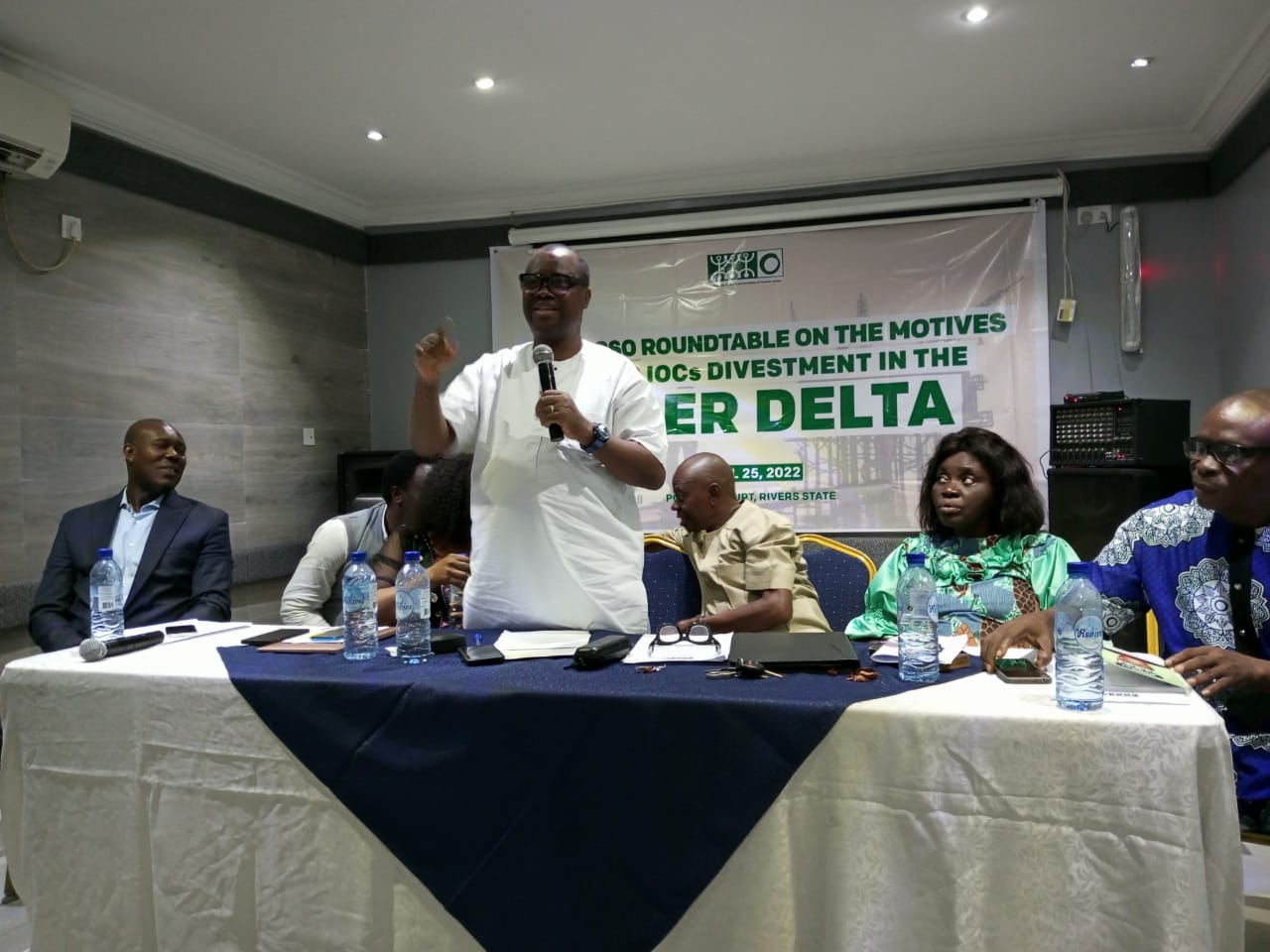 By Nneka Nwogwugwu
 
Environmental activists in the Niger Delta, during a one-day meeting, have revealed real reasons international oil companies are divesting in the Niger Delta region of Nigeria.
 
The intensive one day media –CSO dialogue on Motives behind IOC Divestments in the Niger Delta was organised by the Environmental Rights Action/Friends of the Earth Nigeria on Monday in Port Harcourt.
 
Among other civil society organisations present at the dialogue include, Kabetkache Women Development Centre and We the People.
 
The activists in different presentations submitted their different reasons the IOCs are divesting their assets to mainly domestic oil companies in Nigeria.
 
NatureNews reports that divestments by IOCs started around 2010, in which these companies have been said to be offloading their onshore assets because of oil theft, insecurity, community restiveness, vandalism and  among others.
 
Countering these reasons made by the IOCs, Prof Sofiri Joab-Peterside, a lecturer of the University of Port Harcourt, presenting  a lecture on the topic '' The Neo Liberal Approach to Divestment: The Niger Delta as case study'' revealed that the main reason the IOCs are divesting is because they are indebted to the Niger Delta communities and the Nigerian government.
 
He said, ''some players in the financial and oil sectors in the Nigerian economy traced divestment to the indebtedness of oil companies.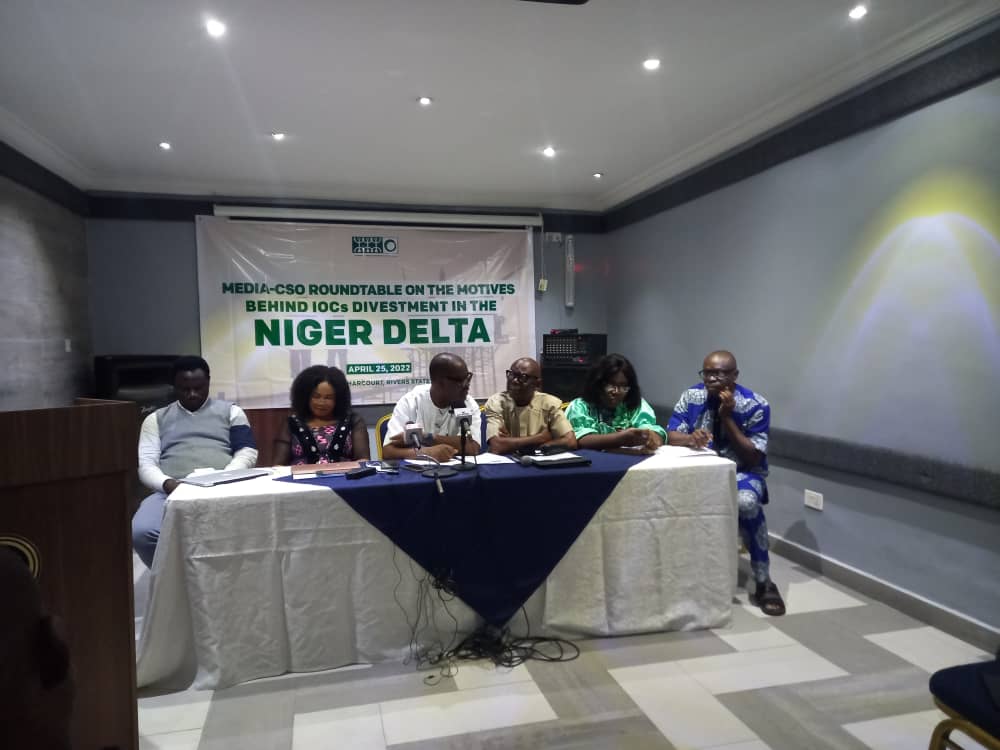 Citing a report by the Nigerian Extractive Industry Transparency Initiative (NEITI), Prof Joab –Peterside said that not less than 55 oil companies operating in Nigeria failed to pay 1.32 trillion naira to the government in 2020 while over 77 oil companies failed to pay the country 6.45 billion naira.
 
''Some of these companies saying that they are divesting are owing and they are not even paying royalties. The only thing they are discussing is that communities are no longer conducive for them to operate,'' he said.
 
The don noted that although some stakeholders traced the indebtedness to the failure of governments to meeting its obligation in payment of cash call to the companies. Others noted that government is not doing enough to recover the debt.
 
''Some of the reasons for divestment by the IOC include, global push for energy transmission, the crises prone operational environment which is no longer conducive enough for business and the urgent need to diversify to renewable energy, otherwise known as 'new business'.
 
''This development, no doubt, has unpalatable consequences for Nigerians which result to medium term investment on any crude oil export for running this country.
 
''However, facts are emerging that divestment of assets by some IOCs is beyond the global push for energy transmission. It came out strongly at a conference that international companies including Shell and Exxon Mobil has divested some of their Nigerian assets in the past few years citing the need to diversify their port folios as the potent reason,'' he informed.
 
Citing a report by the Nigerian Industry Transparency Initiative (NEITI), Prof Joab –Peterside said that the underlying reason for divestment was blamed on the current issue of oil theft and the vandalism of onshore facilities.
 
He said, ''In agreement with this, the Executive Secretary of NEITI, Dr Ogbonnaya Orji, at a summit submitted that Nigerian lost 260.15ml barrels to crude oil theft in the past 5 years, this according to him is a huge problem currently impacting negatively on the downstream sector.
 
''Texaco International Oil Company stated that it decided to sell its entire shallow water assets of its Nigerian subsidiary to Seplat because the sale will support the company's divestment policy.
 
''What this divestment strategy is was not brought before us .''
 
He added, ''A breakdown of the IOC indebtedness in 2019 shows that a total of 142.99 million dollars is owed as petroleum profit tax, 1.089 billion dollars as company income tax and 201.69 million dollars as education tax. These are taxes that ought to support this country and that is why they want to run.''
 
Speaking on the implication of Neolibralism, he said that it has been a strategy to prevent social conflict in America whereby the rich are growing richer and the poor get poorer.
 
''The point of neoliberalism in divestment, plays the role of market i.e  the break free enterprise, that means to say it no longer matters how much social damage this will cause and so the oil companies can leave after degrading our environment.
 
''Amid this divestment plan, Nigeria is planning six new regulations on the backdrop of Petroleum Industry Act, which set fresh modalities for oil and gas royalties award. These new regulations among others are rent regulations, Nigerian compassion regulation,'' he said.
 
Prof Joab-Peterside concluded in his own words that ''divestment means running away from substantive social responsibilities of IOC.''
 
On the implications of divestment, he noted that, ''it is likely that the domestic oil companies may not have the capacity to raise the required finances to back their operations.''
 
Other implications, he said are, less resources for management of environmental impact emanating from oil production processes, maintenance and decommissioning of oil and gas infrastructure increasing risk of socio political conflict.
 
In his welcome address, the Executive Director of Environmental Rights Action/Friends of the Earth Nigeria, Barr. Chima Williams, said, ''When it comes to issues of divestment, what the world understands about divestment is when you divest from loans to finance, divest from incentives, but here in Nigeria divestment is understood by the IOCs as to be leaving their best offshore and going into deep offshore with incentives. We have to understand this narrative and put the correct point.
 
''The essence of this our roundtable is for us to learn from each other and relearn from each other so that as civil society actors will be speaking from the position of knowledge and correct information and as journalists it is right we revive from the same perspective of accurate information and knowledge. And you see, even what we are doing here will be to the advantage of everybody.
 
''First it is government and people of Nigeria who will ok the resources embedded in these sector rather than having to grabble only with the problems that will be invested by the divesting companies. To the oil bearing communities, you will understand the process and you may identify stakeholders that contribute to the process, then negative incidences will be reduced.
 
''For the divesting oil companies, they will do their business without fear of negative competence and of course for Domestic oil companies that will invest in the divestment process, they will buy quality assets not like the one companies have bought without proper information.  If you acquire assets based on poor information or incomplete information from the donor or seller of those assets it is a ground to mitigate on that.
 
''The critical thing is looking at why are they divesting, which is the key question that we want to answer from our own perspective because we now know that they are lying.
 
''If you think that the business is no longer lucrative why will you go onshore where there is scrutiny of the people on what we are doing and move deep offshore where nobody reaches? And as we continue to point out these, there are heavy incidences that the pollution that occurs offshore is more than hundred times more than what we see.
 
''One of the critical reasons, oil companies are divesting is because they know that they have been defeated.
 
'If you look at from 29th of January, 2001 when Era supported court cases,  judgements were delivered and Shell was held liable which means all farmers and fishermen defeated Shell in their own country  and that followed up by the Supreme court judgment in the UK when a small community defeated shell in the UK.
 
''Exxon Mobil was defeated by small communities in Akwa Ibom and Eni was defeated in Italy. You see that losing the legal process was spearheaded by environmental right action of Nigeria and this has pushed them to understand that it is no longer business as usual and that is why they are running away.''
 
The Executive Director of Kebetkache Women Development centre, Emem Okon, also addressed the issue of exclusion in rural communities. She decried that most of the programmes developed by the government including the UNEP report are not addressing the exclusion of the people.
 
Calling on Journalists for effective and balance reporting, Ken Henshaw of We the People urged that Journalists should serve as watchdogs who would observe and make revealing reports that will inform the general public including those at the grassroots on how these IOCs are effecting divestment.