Oyetola Pledges Commitment to Maritime Workers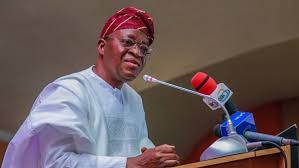 By Obiabin Onukwugha
The Minister of Marine and Blue Economy, Adegboyega Oyetola, has pledged his determination to equip seafarers and other maritime workers with the enabling tools to tackle and overcome work related challenges.
This is as the minister also commended the Nigeria Ports Authority (NPA), for renovating it's facility at Apapa, Lagos.
The Minister spoke whole commissioning the Nigerian Seafarers Centre, renovated by the NPA, last Wednesday.
Speaking during the commissioning, Oyetola expressed delight at the renovation of the facility by NPA, which is owned by the Mission to Seafarers (MTS), Lagos, saying it will support the social, psychological and emotional needs of seafarers who visit Nigeria.
He implored agencies under the Marine and Blue Economy ministry to be committed in driving smart initiatives that create opportunities and open up growth in the sector.
This is part of our concerted effort to ensure the maximisation of the comparative advantages that our maritime resources present. The reconstruction of this MTS facility will undoubtedly scale up Nigeria's rating in the global maritime community.
"I was highly elated when I received the report of the commissioning of this Seafarers' Center by the Nigerian Ports Authority (NPA). My joy is rooted in the realisation that this purpose-built facility, designed to provide vital social, psychological, and emotional support to the crewmen and women who drive global trade in and out of Nigeria, signposts the seriousness of the President Bola Ahmed Tinubu's administration in enhancing the maritime sector to add greater value to the national economy.
"I must commend the management of the Nigerian Ports Authority for their visionary intervention in transforming this facility, which I was told was in poor condition at the beginning of this year, into a regional best-in-class that it is today.
"You can be rest assured of my unflinching support towards the implementation of such initiatives. Let me remind all stakeholders that the sustainability of investments such as this rests heavily on how well we maintain them. I hope that the importance of this facility will not be lost on its users," the minister stated.
Also speaking, the Managing Director of NPA, Mohammed Bello Koko, said NPA's partnership with the Mission to Seafarers to renovate the centre is a testament of a commitment to advance maritime trade and unleash fresh opportunities for growth and prosperity inherent in Nigeria's blue economy.
"It is essential for this special category of men and women who spend weeks on end holed up with only work mates for company to get on shore to interact and access internet to contact family, seek welfare, to secure medical or psychological support if needed and to have a break from the work environment."
"With an estimated number of 4,000 foreign-flagged ships visiting our shores annually, which implies 300 vessels (or a minimum of 6,000 Seafarers) every month, it has become expedient that we intensify our collaborations with global institutions like the MTS to encourage shore leave and crew change and of course reap the concomitant benefits for coastal tourism and the projection of positive image and reputation for our dear nation.
"Already, we are witnessing improvements of inland traffic to and from our ports. These, coupled with developments in intermodal transportation, as occasioned by our advancing rail system, are bound to encourage and stimulate immense opportunities in the maritime ecosystem," he stated.
The Chairman of Mission to Seafarers Lagos, Chief Adebayo Sarumi, represented by a member of the board, Yetunde Akinluyi, on his part, stated that the needs of seafarers have evolved from the provision of a base through which they can contact their families to advocacy for shore leave, legal assistance, counselling pastoral care and increasingly psychological support.