Consumers lament high cost of seafood in Lagos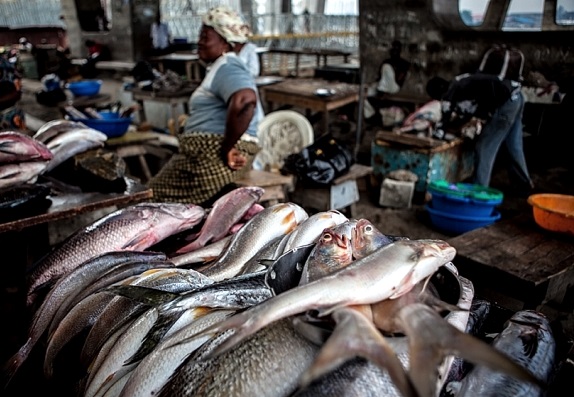 Some consumers in Lagos State have expressed concern over the current high prices of seafood, urging the government to intensify measures to address the situation.
The consumers who spoke with NatureNews expressed their concerns and hoped the commodity can get back to affordable prices again.
Mrs Ojo, a civil servant, described the situation as unfortunate and hoped things can get back to normal.
"It is really unfortunate things are no longer affordable. I used to buy shrimp, prawn and croacker a lot, but now I have reduced it because of the cost is just going up everytime. I still buy croacker, but I have cut down on shrimp an prawn, even though my family likes it. But things have really gone up." She said.
"By the time we use all our salaries to eat prawns, how are we going to provide for other important things. So what I buy most is the imported fish like Titus, Mackerel etc. We dont know how safe it is, but that is what's affordable since fresh ones are costlier" she added.
Another seafood lover, Rekiya Oyewande lamented that she and her family had to find a way to cope with the dire situation since there was nothing they could do.
"I used to buy 1kg of Jumbo prawns 5,500 naira before and then, I grill the whole 1kg for my family. But now that it is 9000 – 10,000 naira, I don't buy it as much as I used to, and even when I buy, I use 1kg for upto five times because of the cost. We just try to manage it like that" she said.
There is no doubt that Nigeria derives much of its protein needs from fish and seafood products.
Seafood is a good source of essential nutrients, including omega-3 fatty acids, vitamin A, and B vitamins. It is also low in saturated fats, high in protein and these nutrients are essential in maintaining optimal health—particularly your brain, eyes, and immune system.
Most Nigerians depend on imported fishes like panla, Titus, Mackerel and Shawa because they believe other seafood like Prawns, Red snapper fish, Tuna, Grupper or even Croacker to be food for the rich since only the rich can afford it comfortably.
For Faith Isime, a house wife, even the imported ones are costly and making lives difficult for poor – average Nigerians.
"Even the Titus that we used to buy 700 naira per kilo, is now 2,500 per kilo, even Mackerel (kote) is expensive now. What I buy most is Shawa fish which is around 1,400 per kilo. To make pot of soup now, I spend double of what I used to spend because everything is expensive now." She said.
A visit to a local Frozen imported fish shop revealed that the high cost of frozen fish is due to the high exchange rate of the naira to the dollar and the cost of keeping them fresh.
"We are just managing to remain in the business, it has not been easy for us at all. Many people have left the business because there's no much gain again. It is what we buy that we can sell and the cost of keeping them fresh because of our bad electricity supply is also affecting the price. It is not our fault." Titilayo Munir, a local frozen food seller told NatureNews.
The Iya Oloja of Anuoluwapo seafood market on victoria island, Mrs Macauley JP, also told Naturenews that the high cost of fresh seafood is due to the cost of going fishing, and due to the fact that sea food is getting scarce.
"Before, when the fishermen go fishing with 1 drum of fuel (200litres), 100kg of Prawns, and 100 or 200kg of other seafood, now, they don't get much again. They go fishing and comeback with 20kg, 50kg and the cost of fuel has doubled compared to then." She said.
"Now, the fishermen hardly find Lobsters, Sole fish, Sadine, Tuna fish, Silver fish, because they are almost extinct. And even other fishes like: Red snapper, Grupper, Bara Kuda, Ink fish (calamari), Shine nose are gotten in few numbers now. And Shimp and prawns are even the worst. They don't get them again like before. That is why it is the most expensive seafood now.
"The fishermen are also complaining of the economic situation in the country. They increase their prices for economic reasons too. And since we buy from them and sell to retailers, we add our own little profit too. The retailer would also add the cost of keeping the products fresh because they buy ice block everyday." She added.