AfDB, partners inject $1bn to fund Nigeria's SAPZs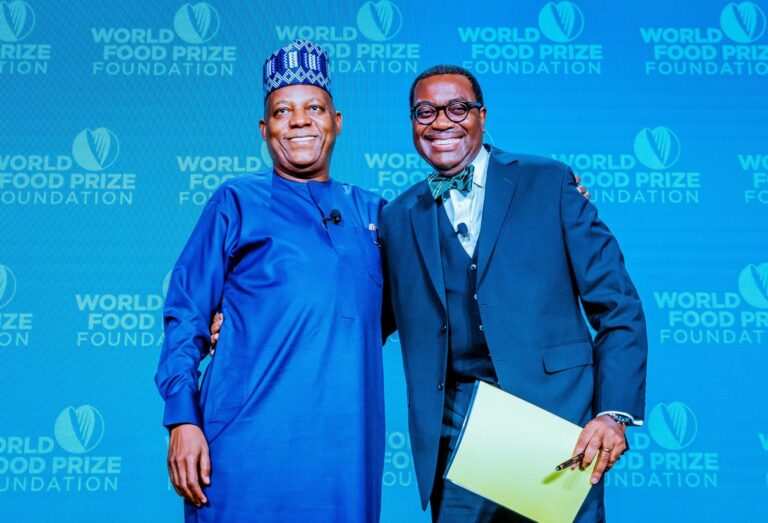 African Development Bank (AfDB), Islamic Development Bank (IsDB) and the International Fund for Agricultural Development have voted $1billion to deliver Special Agro-industrial Processing Zones (SAPZs) across 24 states in Nigeria.
This is in addition to an initial $520 million voted by the development partners for the development of eight SAPZs projects in the country.
President of the AfDB, Dr Akinwumi Adesina, stated this in a statement by Mr Stanley Nkwocha, Senior Special Assistant to the President on Media and Communications, Office of the Vice-President.
Adesina spoke at the Norman Borlaug International Dialogue, World Food Prize 2023, in Des Moines, Iowa, United States.
In a speech titled: "From Dakar to Des Moines," Adesina said that the decision to pump such huge funds into Nigeria's agribusiness was part of the resolve to develop SAPZs in 13 countries.
"We are investing heavily in the development of SAPZs to support the development of agricultural value chains.
"Food processing and value addition, enabling infrastructure and logistics to promote local, regional, and international trade in food.
"The African Development Bank Group is investing $853 million in the development of the Special Agro-Industrial Processing Zones.
"The bank has mobilised additional co-financing of 661 million dollars, for a total commitment of $1.5 billion," Adesina was quoted as saying in the statement.
According to Adesina, the bank is deploying effective partnerships at scale, adding that currently it is implementing 25 SAPZs in 13 countries.
"The AfDB and the International Fund for Agricultural Development provided $520 million for the development of eight SAPZs in Nigeria.
"The second phase of the programme aims to mobilise an additional $1 billion to deliver SAPZs in 24 States of Nigeria."
Adesina regretted that 283 million people still go to bed hungry, about one third of the 828 million people that suffer hunger globally in spite of the progress made in African agriculture.
He described the Norman Borlaug International Dialogue World Food Prize 2023, as a journey and narrative combining the power of science, technology, policies and politics to ensure that Africa fully unlocks its agricultural potentials and feeds itself with pride.
Adesina thanked Vice-President Kashim Shettima, and the President of Ethiopia, Sahle-Work Zewde, for participating in the global event.
Their presence he said, was an indication that Africa had the political will and fully ready to tackle food insecurity as well as make hunger history on the continent.
Shettima, who is attending the event in pursuance of the food security and diversification policy of the Tinubu administration, had on Wednesday delivered a keynote address at the ongoing dialogue.
While speaking on President Tinubu administration's initiatives for food security, Shettima said the quality of present leadership in Nigeria and the rest of Africa would drive transformation in agriculture and other sectors.
He said that: "A nation falls or rises fundamentally due to the quality of its leadership.
"Right now Africa is blessed with quite a handful of quality leaders that have the drive, passion and skills set to redefine the meaning and concept of modern leadership.
"President Tinubu, my boss, is a good example, Macky Sall of Senegal and of course, Abdel Fattah El-Sisi of Egypt are doing wonderfully well.
"Just to mention a few of the African leaders that are distinguishing themselves in leadership".
Shettima assured the investors and stakeholders in the agricultural sector that Tinubu was a quintessential 21st century modern African leader, who is determined to redefine the meaning and concept of modern leadership.
"Be rest assured that there will be a change in the fortunes of the Nigerian nation and by extention, the African continent in the next couple of years because Nigeria is an anchor nation".
He said that the target of Nigeria towards wheat production was to achieve 50 per cent self sufficiency in the next three cycles.
"It is inconceivable that we are the second largest wheat importer in the world. Luckily, we have already procured the heat tolerant variety of wheat seeds.
"And we are going to drive that process by supporting the farmers with the heat tolerant variety, agricultural extention services, fertilisers and also hope to increase the irrigation areas to one million hectares in the next cropping cycle.
"We need to produce about 2.4 million tonnes of wheat grain in Nigeria. We are going to reach out to our farmers through small irrigation schemes and digitalisation.
"All the actors in the value chain will be sufficiently taken care of through innovative finance, partial credit guarantees and crop insurance," Shettima said.
On rice production, Shettima said the major challenge for Nigeria was the insufficiency of paddy rice.
He said that Nigeria had adequate milling capacity, stressing that the country needed to produce three to four million tonnes of paddy rice to meet the requirement of about 2.5 million tonnes per annum.
"We have 75 million hectares of arable land and most of it suited for rice cultivation.
"We will provide our farmers with certified seeds, fertilisers, extension services, the digitlisation of services, inputs, finance and market information.
"Our target is to achieve self sufficiency in rice latest by 2027."
The vice-president, who spoke on SAPZs, reiterated the Tinubu administration's commitment to providing an enabling environment for investors in the zones.
He said government would create a SAPZs development authority that would operate like a one-stop shop where regulatory and associated issues would be addressed.