2023 DRR: Nigeria, Undeveloped Nations Facing Inequality as Climate Change Strike – DG NEMA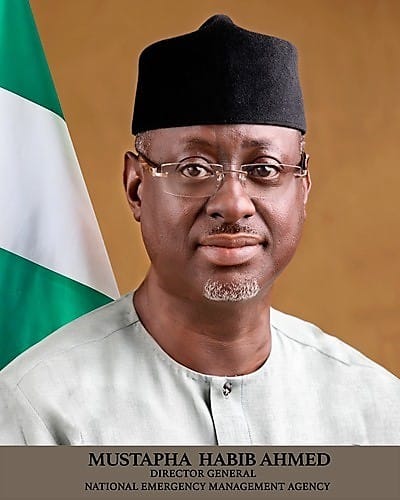 By Fatima Saka
Developing nations like Nigeria and other underdeveloped countries have been spotted to be facing inequality with the adverse effects of disaster, induced by climate change and climate variability.
This was revealed by the Director General of National Emergency Management Agency (NEMA) Mustapha Habib Ahmed while delivering his keynote address on Friday in Abuja, while marking Tenths Year of Disaster Risk Reduction in Nigeria, at the commemoration of 2023 International Day for Disaster Risk Reduction.
According to the D-G NEMA, while quoting the World Bank reports in 2022 Indicator that 75 percent of extreme weather events are currently connected to climate change fuelled carbon emissions largely from the Industrialized countries.
He further stressed that the Climate Adaptation Platform has Indicated that developing and small Island states that contributed least to the drivers of climate change experience the greatest disaster losses.
"It further stresses that Inequality has facilitated the transfer of disaster risk from more advanced countries that benefit from risk-taking to developing countries which bear the cost.
Emphasizing on this year's theme "Fighting Inequality for the Resilient Future" aligns with the inclusiveness position of the UN,to ensure that "no one is left behind".
NEMA boss said that the theme prop the need for all actors to come together to fight inequality in order to achieve inclusiveness adding that this becomes necessary as inequality has been identified as a major index capable of retarding disaster resilience.
"It underscores the rationale that the UN in 2015 spelt out Sustainable Development Goal 10 aimed to "Reduce inequality within and among countries". The goal has 10 targets to achieve in order to reduce global inequalities.
"Distinguished Ladies and Gentlemen, the 2023 International DRR day celebration is looking at the mutual relationship between disasters and inequality. Inequality and disaster vulnerability exist side by side. Unequal access to services, income inequality, unequal opportunities
and discrimination, non adoption of fiscal policy that promote equality have exposed the global population, especially women, children, the elderly and people living with disabilities to the disaster risk.
"With concerted efforts and awareness creation, we can curb the destructive powers of both nature and human Induced disasters through careful planning to reduce people's exposure and vulnerability to harm.
The Sendai Framework for DRR calls for more dedicated action on tackling underlying disaster risk drivers such as poverty and Inequality, Disaster risk reduction requires a society wide engagement and partnership. It also requires empowerment and inclusive, accessible and non-discriminatory pantalon paying attention to people disproportionately affected by disasters, especially the poor. It calls for Integration of gender, age, disability and cultural perspectives in all policies and practices while promoting women and youth leadership in our democratic processes.
"In this regard, the National Emergency Management Agency (NEMA) over the years has Introduced policies that seek to reduce Inequality both in Its National Disaster Response Plan (NDRP), damage and Inss assessment and relief intervention activities.
"Exclusive care is granted to women, children, the elderly and persons living with disabilities. The Gender Unit, the Vulnerable Group Care Unit and the Food and Nutrition Unit were all created and mandated with the responsibilities of ensuring that equality and addressing the challenges faced by vulnerable-groups in disaster risk management programs is safeguarded.
Under our IDP camp management policies while supporting state governments, NEMA ensures that persons with special needs including lactating women, children, the elderly and persons with disability are granted the special care they deserve. We have strived hard to take disaster risk reduction to the grassroots. through constant advocacy for State Governments to set up functional SEMAs and LEMCs with adequate funding and trained manpower to save lives and safeguard livelihoods in times of disaster.
"We have not reached all our targets of the paradigm shift away from disaster response to disaster risk reduction. Yet, it is a work in progress and we are confident to reach the vision especially with the concerted support of all our partners here present. In this regard, our partners in weather and climate forecast, security agencies, the UN system, SEMAs, the Red Cross, NGOs, community volunteers, and the media have continued to play a very important role and we appreciate their support.
'On this note, I Urge all our stakeholders to join the conversation and promote the fight against inequality in order to build a resilient future for our country. I wish you a great celebration while reminding us that "disaster risk reduction requires an.all-of-society engagement and partnership". To build a safe, well informed and resilient nation is a collective responsibility; we must all play our vital roles to make our communities safe, secured, liveable and resilient to disasters."
In his goodwill message, Minister of Agriculture and Food Security Abubakar Kyari, who represented by Mrs. Sugra Mahmood, Director Nutrition and Food Safety said this year's themes resonate deeply with the ministry, of the ongoing commitment to address the profound impact of extreme weather events on food security and the vulnerable in the society, adding that inequality within the communities is further magnified when the disaster strikes.
"As marginalized populations bear the brunt of their consequences. It is our moral imperative to pursue equitable solutions that empower every citizen to withstand the shocks and stresses of related disasters.
"Extreme weather events, such as drought, floods, storms and heat waves have emerged as formidable adversaries, threatening our agricultural systems and accessory to the inequalities in accessing nutritious foods."
In his welcome remark, Daniel Etim Obot, Director Disaster Risk Reduction, NEMA reiterated that inequality is among countries and human families can not constitute a hindrance to this noble global initiative.
"This underscores the importance of the theme of this year which is "Fighting Inequality for the Resilient of the Future. As we have been collaborating together over the years, compelling us to strengthen the synergy in order to collectively solve inequality considering that 2030 is fastly approaching a timeline for actualisation of the Sustainable Development Goal.
"SDG 10 specifically deals with reducing inequality. Ladies and gentlemen I thank you very sincerely for responding to this very important national clarion call.
"Together we shall meet the expectations of the international disaster risk community by contributing toward reducing inequality in our dear country, Nigeria."